According to the results of research in the SWIFT world's largest financial institutions, on average, about 5% of banking transactions require the investigation, what is spent up to 20% of the resources.
The manual processing of these cases suffers from significant weaknesses:
A lack of effective and efficient interfaces between query receiving and the back office;
A tremendous amount of work created by manual processing;
Steadily rising processing costs due to increasing transaction volumes;
The communication between the involved parties does not meet SWIFT standards;
Dissatisfied customers due to drawn-out query processes.
PINQ case manager system
PINQ – is a powerful cross-platform system for build and control a fully automated workflow for processing queries and responses to investigate problems with banking transactions and payment instructions (http://www.pinq.de).
PINQ solution aims at creating and optimizing internal processes for managing investigations. These solutions are implemented in large banks, including Russia.
PINQ supports standardization processes investigations on payments and creates the basis for full automation of these processes. The system can be easily integrated into an existing system landscape organization. In particular, a set of integration modules includes PINQ adapters for IBM WebSphere MQ, SQL, file/FTP, email and SWIFT. Due to the presence of these adapters can be easily installed communication and data exchange with the central bank's systems and ensure rapid integration of existing back-office systems.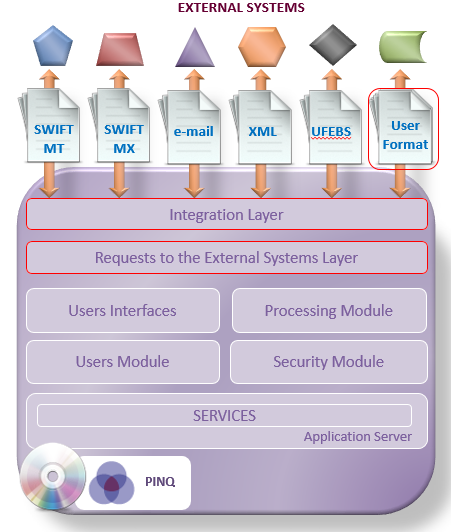 Pic 1
The PINQ system supported for various computer platforms, such as UNIX, Windows or Linux. Technical innovation system also includes support for Web services architecture, Multichannel mode, as well as the modern graphical user interface, which provides better handling and user-friendliness.
Results of PINQ implementation
Optimization of investigations business processes;
Ability to effectively govern the investigation, with the possibility of monitoring of both the individual employee as well as a whole unit;
Reducing the total time handling customer queries, improving the quality of service while reducing the cost of investigations: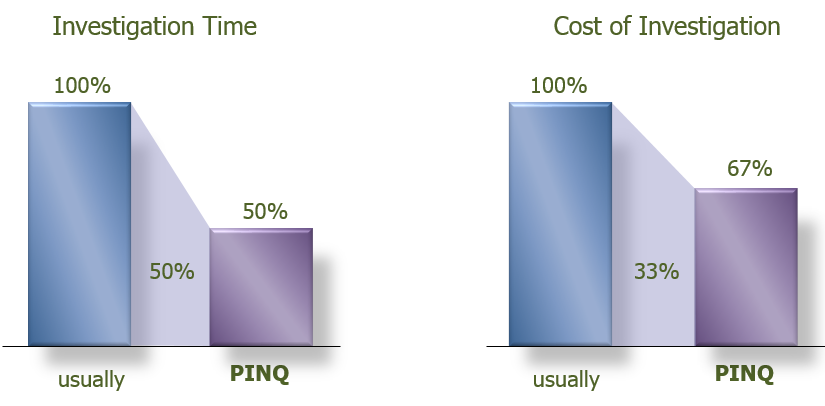 Pic 2
Distribution and accounting staff load;
The ability to use the principle of "four eyes";
Get detailed statistics for a general analysis of the work and adjust business; processes and changes in the organizational structure;
Storage request processing history, including the PDF document and the event log.